Queen Elizabeth II is a faithful lover of lipstick and the photos prove it, but there are also other beauty secrets that she treasures to always look perfect at any age.
At 95 years old, Queen Elizabeth II has amazed us with her amazing looks that evoke a style full of character and strength, but we must also talk about those aspects of beauty that characterize her and have made her an icon of royalty. From her classic short hair to her nude manicure , we reveal the beauty secrets of Queen Elizabeth II with which she achieves that image that is as powerful as it is sophisticated.
symmetrical haircut
If there's one thing we can't deny, it's that Queen Elizabeth II's hair always looks perfectly short and coiffed, but the question here is, how does she do it? According to Richard Eden, a writer for the Daily Mail , presenter Esther Rant Zen told him that the queen always asks her hairstylist for a totally symmetrical cut that looks the same from any side and angle that people see her.
Since the 1960s, the Queen has worn the same hairstyle and it is said that for two decades before the pandemic, her hairstylist , Scott Ian Carmichael, went to Buckingham Palace and Windsor Castle every week to touch up her hair.
ballerina nails
Although Queen Elizabeth II is sometimes seen wearing clear nail polish, the color that has dominated her manicure since 1989 is a milky nude called 'Ballet Slippers' by Essie. Various sources reveal that in that year, the queen's stylist requested the enamel in an exclusive letter to the brand and since then, it is the only color that has been seen.
This enamel is as classic as it is sophisticated and royal, worthy of being in your collection for extremely impeccable nails like those of Elizabeth II . In fact, this tone was also worn by Meghan Markle and Eugenia de York at their wedding.
anti-aging skin care
A few months ago , Queen Elizabeth II's favorite beauty brands and products were revealed , among which anti-aging cosmetics stand out not only to take care of her face, but also her hands and neck, parts of the body that show these signs. The British monarch is a fan of Clarins ' 'Hand And Nail Treatment Cream' ; Elizabeth Arden 'Eight Hour Cream', plus some Bronnley hand lotions and Melton Brown body washes. There is no doubt that for the Queen, pampering her skin from head to toe is her biggest beauty secret.
your favorite perfume
If you have wondered what Queen Elizabeth II smells like , we have the answer: clean, with powdery and floral touches. We guessed it! According to several sources, one of the perfumes that cannot be missing from her dressing table is 'L'Heure Bleue', by Guerlain , which gives off floral and citrus notes. It appears she wore it on her wedding day to Prince Philip in 1947, and it has also been discovered that she is a fan of Floris 's White Rose, which smells like carnations, the monarch's favorite flower.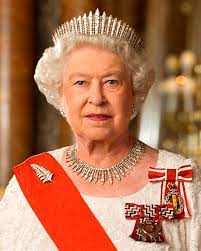 Pink lips
There are several photos in which Queen Elizabeth II has been captured retouching her lipstick –giving us the best beauty moments of royalty–, so we know that she is a fan of this makeup must , but what brand do you use? Nothing more and nothing less than Elizabeth Arden 's moisturizing lipsticks . Her exact shade is not known, but from what we have seen in photos, she is a lover of pink tones (some more on than others).
Surprised by the simple and accessible beauty rituals of Queen Elizabeth II ? Less is more for her, but she has imposed power and style with them.