Starting her career in 1969 with Thunaivan as a child artist, Sridevi set on a journey that turned into a legacy.
Actor Sridevi, 54, passed away on Saturday night after a cardiac arrest. Sridevi was hailed as one of the most accomplished performers who could completely transform on screen as per the demand of her role. Starting her career in 1969 with Thunaivan as a child artist, she set on a journey that turned into a legacy. Her career in Hindi films started with Solva Sawan in 1979 and there on, Sridevi delivered some knockout performances.
Here are 10 best performances by the Chandni of Bollywood:
1. Mom (2017)
Playing Devki Sabarwal, Sridevi played the role of a mother who could go to any extent to avenge her daughter. She plays a vigilante out to extract revenge from the men who raped her teenage daughter.
Sridevi was fierce in the film and her performance as the woman who has the ability to take on the world to get justice for her daughter was quite powerful.
2. English Vinglish (2012)
This was Sridevi's comeback film after a long gap of 15 years. Her performance as the homemaker who is also an entrepreneur was just so powerful that it moved many to tears. The scenes where her character is made to feel inadequate for not knowing English or the scene where she confidently delivers a speech at her niece's wedding were emotional and captivating.
3. Laadla (1994)
Sridevi stepped in this film after actor Divya Bharti tragically passed away. With her signature dialogue, "Understand? You better understand," Sridevi was her fiery best against Anil Kapoor in this film. Playing a successful businesswoman who does not subscribe to social stereotypes, Sridevi's character starts off as a woman who does not listen to reason but eventually starts seeing things from different points of view.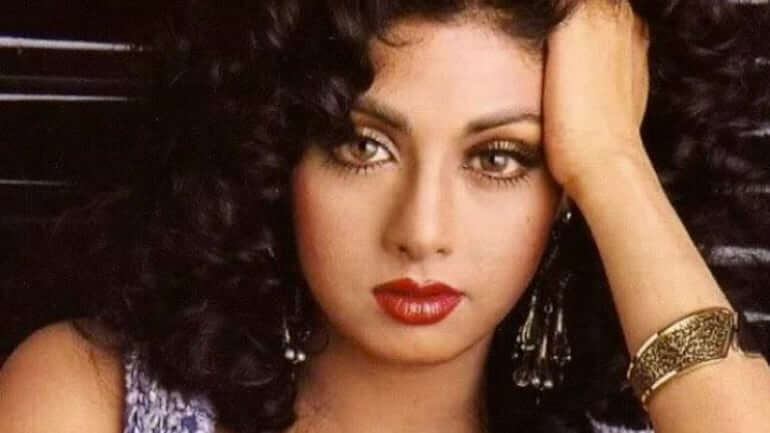 4. Lamhe (1991)
This underrated classic had Sridevi playing two roles. In the beginning, she plays Pallavi, an already engaged woman who enchants you with her graceful performance on songs like "Morni Baga Mein", and later, she plays Pooja, the orphan daughter. With Pooja, Sridevi delivered one of the best performances of her career. The girl who is mindlessly in love with a man twice her age and yet is completely fearless when it comes to confessing her feelings, Sridevi put her heart out on the screen here.
5. Kshana Kshanam (1991)
This 1991 film directed by Ram Gopal Varma had Sridevi working with Venkatesh. Kshana Kshanam was a road movie that fetched Sridevi a Filmfare Award (South) for Best Actress (Telugu). RGV later remade this film in Hindi as Daud.
6. Chandni (1989)
This classic by Yash Chopra is still remembered for songs like "Mere Haathon Mein" and for the way it celebrated the beauty of Sridevi. An actor of such great calibre, Sridevi played the titular role with such perfection that the mere mention of her name reminds one of her deep, expressive eyes that simple hold the audience's gaze.
7. Chaalbaaz (1989)
This was the film where Sridevi got a chance to display her acting chops to the fullest. She had a double role in the film. As Anju, she showed off her bossy side, the girl no one could mess with but as Manju, she was the submissive, docile girl who is even scared to speak. Playing two diametrically opposite roles, Sridevi enchanted her fans.
8. Mr India (1987)
While the film was titled Mr India, Sridevi's role as Seema was quite pivotal to the plot. Her character starts off as an investigative journalist who is on the hunt for her next scoop and ends up being in the middle of the events that save the country from Mogambo. Sridevi's scenes where she brings in snacks for the kids in the house was a tearjerker and her performance as a sensual diva in "Kaate Nahi Kat-te" was mesmerising.
9. Sadma (1983)
This 1983 film directed by Balu Mahendra re-introduced Sridevi to the Hindi film audience as prior to this, she had only appeared in one film. Sridevi had played the same role in the Tamil film. Sadma had her playing a girl suffering from retrograde amnesia that has her behaving like a 8-year-old child. Some of the scenes in this film will leave you in tears.
10. Meendum Kokila (1981)
This 1981 Tamil film by G. N. Rangarajan Had Sridevi and Kamal Hassan in lead roles. Stuck in a love triangle where her husband is ready to leave her, Sridevi's character pulls in all the stops to save her marriage. This film even fetched her Filmfare Best Actress Award (Tamil).