Working long hours during the holidays and possibly missing family events isn't always fun. Dressing up in festive outfits can be a great way to feel more in the spirit and spread holiday cheer to those around you. For example, healthcare workers can don festive holiday-patterned nurse scrubs and accessories to help make it through long shifts and bring extra joy to patients, while office workers may opt for a bold glitter blazer to get into the spirit. Get inspired by these seven fun holiday-inspired work outfits to get you in the festive mood and help you enjoy this winter season in style.
Festive Colored Scrubs
Healthcare workers know how important wearing good quality scrubs can be. Scrubs are easily cleaned to avoid cross-contamination, made with antimicrobial material, and protect the skin from harmful chemicals or bacteria. Scrubs also immediately identify healthcare workers from patients or visitors to ensure proper emergency care.
Festive scrubs can help express holiday spirit while remaining compliant with safety rules and regulations and the hospital or clinic dress code. Green or burgundy scrubs can add a touch of color, while women's and men's scrubs with patterns like Santa, snowmen, or Rudolph can add extra fun for the wearer and patients. Kids especially love to see the patterned scrubs on healthcare workers to help keep their spirits high, even during uncomfortable or stressful visits to the doctor. 
Glittery Blazer or Sweater
What better way to show you're in the holiday mood than with a glittery outfit that embodies the festive season? A glittery blazer or sweater can be a great accessory without overwhelming the entire outfit like a glittery dress might, making it perfect for the office. The glitter can be in silver, gold, white, red, or green for extra holiday flair. Pair a glittery blazer with black or more neutral pants like white or tan slacks. Keep additional accessories like jewelry to a minimum to make the attention-grabbing sweater or blazer the focal point. However, a glittery shoe or bright-colored shoe may complement the sweater perfectly.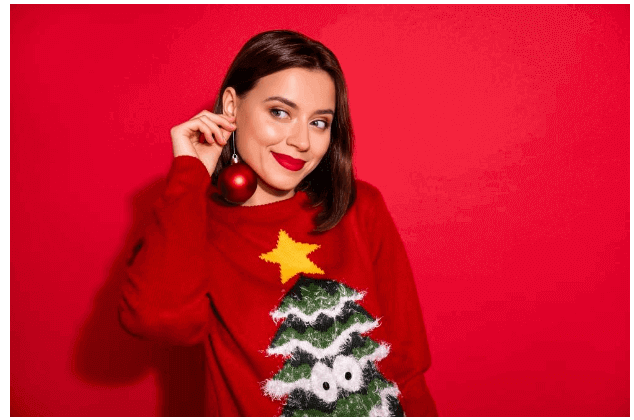 Holiday-Themed Accessories
If you want to add a touch of holiday spirit or work in a company with a stricter dress code, such as a law firm or finance office, small holiday-themed accessories can help you feel festive without being over-the-top.Holiday-patterned socks or a graphic tie add just enough to get you in the spirit while not standing out or hindering your work performance. Subtle holiday-themed jewelry, such as snowflake earrings or a red and green gemstone necklace, can help add a little festive sparkle without overwhelming your ensemble. If your personality and job allow, you can choose accessories like a Christmas tree or jingle bell earrings to celebrate the holidays.
If you like the holidays but don't enjoy overly patterned or cutesy prints, an elegant plaid, like red and green tartan, can give your look sophistication without screaming Christmas. Pair a plaid skirt or pants with a neutral white or black top, to keep the look low-key, or with green or red shades to match the plaid for extra holiday cheer. Instead of a plaid shirt or sweater, choose a plaid holiday-colored scarf, socks, or hair tie to liven up your look. You can wear these accessories with a vibrant red or green sweater or to complement a gold or silver dress. Alternatively, they can add a touch of classic Christmas to more neutral-colored ensembles, such as white, cream, or black sweaters.
Co-ords (coordinating separates) in bright, cheerful colors can help you celebrate the holiday season without compromising style. Separates could include a suit jacket and pants, a blazer and skirt, or even a casual jogger combination, depending on your mood and office dress code. Try bright greens or deep reds to stick with the holiday vibe, or choose patterned pieces with winter floral designs or classic holiday patterns like Christmas trees or snowscapes for extra cheer. If you're feeling extra festive, opt for a glitter design that is bright, over-the-top, and perfect for holiday parties or fun office settings.
While normally reserved for novelty holiday office parties, you can make the ugly Christmas sweater a regular part of your work wardrobe by playing down the kitsch themes and patterns with more neutral and office-appropriate apparel. Choose a sweater with holiday elements such as trees, snowmen, reindeer, or just green and red patterns, but save the bells and whistles (sometimes literally) for casual friend parties. To go with it, pick a prominent color from the top to pair with matching tailored pants to balance the ensemble. For example, a sweater featuring a green tree with red, yellow, and blue holiday lights might work well with a pair of red slacks or blue jeans. 
Textured Knits and Fabrics
What is cozier than a knit sweater in the winter? They're cozy, warm, and typically extremely comfortable for long days in the office. Knits also give an apres-ski vibe that adds refinement to your outfit while ensuring you look perfect for the season. Chunky textures like faux fur, cable knit, or fringe add interest to your ensemble. Textures like satin, velvet, or silk are more glamorous and ideal for an office Christmas party or offices with more refined dress codes. Pair your knits with tailored pants or skirts to keep your knit looking office-appropriate and not too casual. Knits work well in several job settings, including offices, schools, and outdoor work. 
Express Your Holiday Spirit at Work
The holiday season can be a fun time to dress up and celebrate the season. And that doesn't have to stop when you go to work. Wearing a festive-themed outfit can help you feel more in the holiday spirit, spread cheer to those around you, and enjoy your job during this happy but often stressful time of the year. Whether you choose green or red scrub pants or a vibrant glittery blazer, you or add an elegant tie, you can wear an ensemble that encourages holiday cheer in your workplace.