Let's talk about giving your workout a makeover!
Everyone (including me) can get so bored with their workout schedule. I mean, that's the whole reason I started changing it up in the first place! If you're unmotivated by your workout, you won't reap the benefits. It's important to be inspired by the way you exercise.
I am totally not meant to do the same thing, especially workouts, for long periods of time. So mixing it up and basically giving my entire workout regimen a makeover is SUPER important. Like so important for the sake of my sanity/health.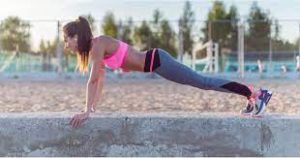 Here are a few ways to give your workout a makeover:
+ Change up your gym views. I can't tell you how motivating it is to join a new gym. Sometimes, the same old routine paired with the same sweaty, smelly gym really kills the exercise vibe. So finding a new gym that you feel comfortable–not to mention motivated–to workout in is super important. Try looking up different gyms in your area and giving them a try! Most gyms will give you a day pass for free.
+ Get outside. You can read my whole post on outdoor exercise HERE. And if you've read it, you know I'm a real advocate for sweating under the sun! Not only do you soak up some vitamin D, but there are so many possibilities when you workout outdoors. Hiking, swimming, wind sprinting, various sports. You name it! Also, you can take some of your traditional indoor exercises outside. Try doing yoga or an ab routine in the morning while the sun is rising. Not only does it make for gorgeous views, but you'll find it motivating too!